4.2 Subway trains
4.2.2 New York
R-32 + R-58 garbage train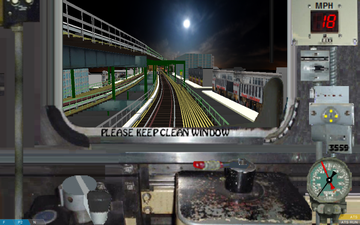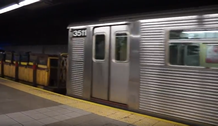 Description:
NYCTA garbage train that consists of four R-32 electric subway cars and three R-58 flat cars. The garbage train's consist is two R-32 electric subway cars in each end and three R-58 flat cars in the middle. Photorealistic driver's stand with digital speedometer, manometer (pressure gauge), and pilot lamp. The brake and power handles moves with the simulation in OpenBVE.
# of veh.:
7
Total length:
Ca. 113 m
Total weight:
Ca. 181 t
Traction pwr:
1376 kW
Max load:
Power source:
3rd rail 625 V DC
Max velocity:
72 km/h
Safety systems in BVE:
ATS-S
Vintage:
R-32: Ca. 1964
R-58: 1956
Works with OpenBVE:
Yes
Known problems:
Vehicle description:
Misc.:
The work train package has a large number of work trains, including 6 different consists of garbage trains. This is the one selected for the garbage train route that is bundled with the
N line
.
Download from:
Included in the large work train pack at
BVEstation
To download from this website:
N/A
Last update of this directory entry:
2018-Jun-03


 


This is search 274515 in the vehicle directory






© Patrick Norqvist
e-mail
Last changed: 2023-Jun-24