4.1 Subways
4.1.4 New York
NYCTA line N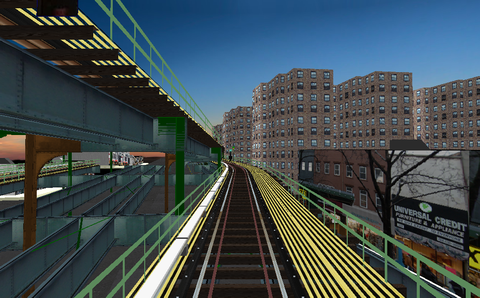 Description:
Line N in New York's subway (the Astoria line, part of the Broadway line part of the 4th Avenue line, Manhattan Bridge and the Sea Beach line, all former BMT). The line starts at Astoria/­Ditmars Boulevard in Queens and goes via Manhattan to Bay 50th Street in Brooklyn. There are no less than 27 (!) alternatives for this line. The creators of this route have made a simulation of very high class. A lot of details trackside and in the urban environment, soft curves and realistic switches.
Works with OpenBVE:
Yes
Known problems:
A few switches are shown in another position than the train goes.
Misc.:
With this route are also bundled a few line M and line W alternatives, and also a
garbage train's
route through the subway system.
To download from this website:
N/A
Last update of this directory entry:
2018-Jun-10






This is search 362992 in the line directory






© Patrick Norqvist
e-mail
Last changed: 2023-Jun-24