TRTA
Ginza

line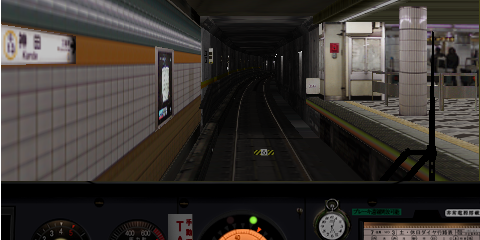 Description:
The
Ginza
line in Tokyo's subway, for the class 01 subway train. The line goes from
Shibuya
/G01 to
Asakusa
/G19. The A1649 alternative that begins at G19 and goes to a lay-up track beyond station G01; the B1649 alternative goes in the opposite direction beginning at the lay-up track. There is also the B1507 alternative that begins also at the lay-up track at G01 and goes to the station
Ueno
/G16, where the train is taken out of traffic and is driven to the
Ueno
depot. Very well-made route with a lot of details, soft curves and realistic light conditions.
Alt.:
A1649
Stations:
19
Stops:
19
TTR:
34 min.
Distance:
14445 m
Alt.:
B1507
Stations:
17
Stops:
19
TTR:
34 min.
Distance:
13160 m
Alt.:
B1649
Stations:
19
Stops:
19
TTR:
34 min.
Distance:
14482 m
Works with OpenBVE:
Yes
Known problems:
None
Misc.:
The following applies when driving from the
Ueno
station and to the depot: On the track to the depot is a stop sign in the track (white board with a circle in black with a horizontal line through the circle). Stop by that sign and wait until a yellow light in the distance becomes lit indicating that the road crossing protection ahead is activated. In the depot yard a place to stop again is indicated before the lay-up tracks. Finally, stop the train 5 m before the end of the lay-up track, then move the train carefully forward to the indicated stop position.
From April 1 2004 (no April fools' joke) every station in the Tokyo subway has a normal station name in Japanese, but also a number. The number is composed of a western letter and two digits. The letter indicates at which line the station is, the number which station counted from one of the line's terminal stations.
The Ginza line has the letter G and the stations are numbered from 01 till 19, the terminus station Shibuya is station G01 and the other terminus Asakusa is station G19.
This number system was implemented to make it easier for foreigners to ride the subway.
Download from:
The BVE 2 and BVE 4 versions of this route, which are compatible with OpenBVE, have disappeared from the creator's website.
To download from this website:
OpenBVE route package ver. 1.0.0.1
The code of these routes have been adapted to load without errors and warnings in OpenBVE. The graphical experience is however not changed from Green Shuttle's original work.
Last update of this directory entry:
2023-Jun-26