4.1 Subways
4.1.4 New York
NYCTA line S - 42nd Street Shuttle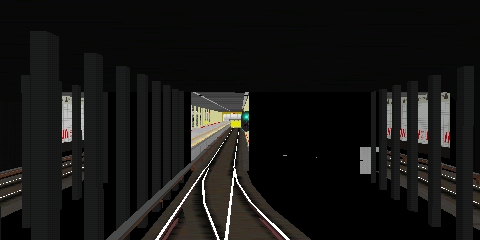 Description:
Line S - 42nd Street Shuttle (line letter S is used by all shuttle lines) in New York's subway (former IRT), for the class R-62 subway train. This is a shuttle line on Manhattan with only 2 stations: Grand Central Shuttle Terminal and Times Square. A few trackside and station details in the simulation, announcement of station and connections. There are 2 alternatives for this line: One eastbound and one westbound.
Alt.:
Towards Grand Central
Stations:
2
Stops:
1
TTR:
2 min.
Distance:
750 m
Alt.:
Towards Times Square
Stations:
2
Stops:
1
TTR:
2 min.
Distance:
750 m
Works with OpenBVE:
No
Known problems:
In the westbound alternative there is, beyond a clear signal, an 8 cars ghost train occupying the track at the 42nd Street station. In the eastbound alternative there are pillars and a signal right in front of the train's cab. The route definition code needs some overhaul to get this route, originally made for BVE2, to work properly with OpenBVE.
Misc.:
To download from this website:
N/A
Last update of this directory entry:
2018-Jun-12






This is search 362962 in the line directory






© Patrick Norqvist
e-mail
Last changed: 2023-Jun-24