4.2 Subway trains
4.2.2 New York
R-62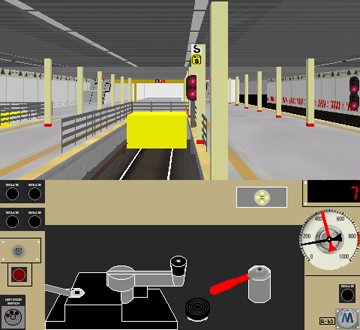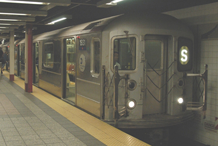 Description:
NYCTA R-62 electric subway train. This train for the 42nd Street Shuttle consists of 4 permanently coupled motorized cars. In other cases, an R-62 unit consists of 5 permanently coupled motorized cars. Driver's stand with digital speedometer (see text at
Misc.
below), manometer (pressure gauge) and pilot lamp. The power handle and the break handle are both moving and follow the simulation in OpenBVE.
# of veh.:
4
Total length:
Ca. 65 m
Total weight:
134 t
Traction pwr:
1372 kW
Max load:
176 seats
Power source:
3rd rail 625 V DC
Max velocity:
Safety systems in BVE:
ATS-S
Vintage:
1983--1985
Works with OpenBVE:
Yes
Known problems:
Misc.:
The digital speedometer indicates the speed in km/h, but the permissible speed indicators in the New York subway indicates permissible speed in mph.
To download from this website:
N/A
Last update of this directory entry:
2018-Jun-02


 


This is search 274486 in the vehicle directory






© Patrick Norqvist
e-mail
Last changed: 2023-Jun-24