4.1 Subways
4.1.4 New York
NYCTA line R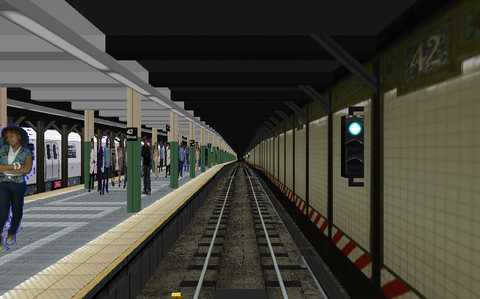 Description:
Line R in New York's subway (the Astoria line, the Broadway line and the 4th Avenue line, all former BMT) for the class R-46 subway train. This line starts at Astoria - Ditmars Boulevard in Queens. It is going via Manhattan to Bay Ridge/95th Street in Brooklyn. This is the route the R line had until May 24, 1987. The team behind this route provides a well-done and beautiful simulation of the highest class. Stations, trackside objects and the urban environment is detailed. Soft curves and realistic switches, announcement of stations and connections.
Alt.:
R pre 1987
Stations:
39
Stops:
21
TTR:
60 min.
Distance:
26904 m
Works with OpenBVE:
Yes
Known problems:
This route is released as a
Beta
version. A few switches are shown leading in another direction than the train actually goes.
There are more objects to download for this line than are mentioned on the route's download page. This route uses the LefShut object directory. It cannot be separately downloaded but is included with the newest version of A line. This route also uses the 4thAve object directory. It cannot be separately downloaded but is included with the newest version of R Shuttle line. All archives are listed in the "Download from"-section below and are needed to get this route to display the graphics properly
Misc.:
To download from this website:
N/A
Last update of this directory entry:
2018-Jun-15






This is search 322236 in the line directory






© Patrick Norqvist
e-mail
Last changed: 2023-Jan-02