NYCTA line 2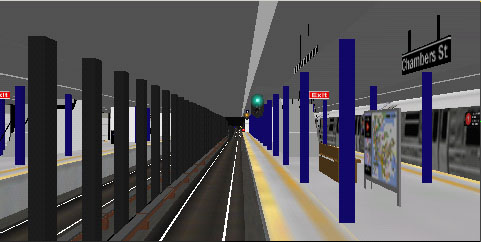 Description:
Line 2 in New York's subway (the Brooklyn line with the Flatbush branch line, part of the West Side line with the Brooklyn branch line, and finally the White Plains line, all former IRT), for the subway train class R-142 or class R-36
Redbird
. The line begins at Flatbush Avenue/Brooklyn College in Brooklyn and goes through, among other stations, Times Square/42nd Street on Manhattan,
where this simulation ends
, to Wakefield/241st Street in Bronx. Detailed stations. Plenty of trackside signs and signals (with correct signal numbers). Soft curves and realistic switches, and also announcements of all stations and connections.
Alt.:
42nd Street
Stations:
30
Stops:
22
TTR:
28 min.
Distance:
18025 m
Works with OpenBVE:
Yes
Known problems:
In OpenBVE there are problems with transparency in the graphics that don't work. It shows as blue lines around the destination signs on the class R-62 trains that appear along the line.
The problems can be fixed by changing in the definition files for those graphic objects. In the directory LegacyContent\Railway\Object\WestsideA\cars are the files r62_1.b3d, r62_3.b3d, r62_4.b3d, r62_5.b3d, r62_7.b3d and r62_9.b3d.
In each of these files the word Transparent followed by three numbers appears at 6 lines. Change in each of these files so the 4 first appearances of the Transparent-instructions are Transparent 0, 0, 255 and the 2 last are Transparent 255, 0, 0.
Misc.:
The timetable for this version of line 2 for BVE is
not
according to real life. Because of that you will be late to those stations for which times are entered in the simulation's timetable. If you keep up with the real world timetable, you will in the simulation be late to the different stations according to the table below:
| Station | Delay |
| --- | --- |
| Franklin Avenue | 2--3 min. |
| Nevins Street | 5--6 min. |
| Chambers Street | 9--11 min. |
| 14th Street | 9--12 min. |
| Times Square/42nd Street | 9--13 min. |
To download from this website:
N/A
Last update of this directory entry:
2018-Jun-02