4.2 Subway trains
4.2.2 New York
R-142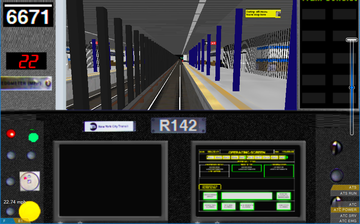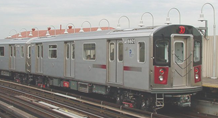 Description:
NYCTA class R-142 electric subway train. The train consists of 10 motorized cars. One R-142 unit consists of 5 permanently coupled cars. This train consists of two 2 such units coupled. Photorealistic driver's stand with digital speedometer and pilot lamp. Exterior view available for OpenBVE.
# of veh.:
10
Total length:
Ca. 162 m
Total weight:
317 t
Traction pwr:
4474 kW
Max load:
1 820 pax. (of which 376 seated)
Power source:
3rd rail 625 V DC
Max velocity:
100 km/h
Safety systems in BVE:
ATS-S
Vintage:
1999--2002
Works with OpenBVE:
Yes
Known problems:
This new version of the R-142 subway train uses other directory names than old versions of R-142 that is wanted by some of the elderly routes. The old directory name used by was "r142". The new version uses the directory name R142_OpenBVE 2012a (line 4), R142_OpenBVE 2012b (line 2) and R142_OpenBVE 2012c (line 5).
Misc.:
To download from this website:
N/A
Last update of this directory entry:
2018-Jun-02


 


This is search 245188 in the vehicle directory






© Patrick Norqvist
e-mail
Last changed: 2023-Jan-02