Navigation bar
Level 1
Start
Install
Drive
Signals
Lines & Vehicles
(you are now at a subpage to this page)
Links
---
Level 2 under Lines & Vahicles inlevel; 1 plus selection Commonwealth of Australia
Previous
Trains - Commonwealth of Australia
(you are at this page now)
Next
(End of navigation bar)
4.4 Trains
4.4.12 Commonwealth of Australia
NSWGR 46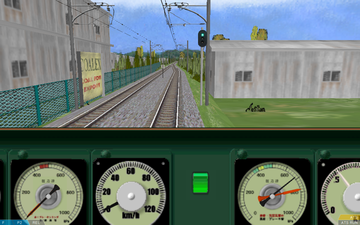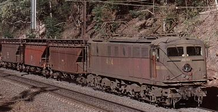 Description:
Electric locomotive NSWGR class 46 with 30 hopper cars filled with coal. Driver's stand with speedometer and manometers (pressure gauges). The continuous traction power is as stated below, but for a maximum time of 1 h the power may be increased to 2 820 kW, which is most needed while pulling this heavy load uphill.
# of veh.:
31
Total length:
Ca. 300 m
Total weight:
Ca. 3000 t
Traction pwr:
2540 kW
Max load:
About 3 000 metric tons of coal-filled hopper cars.
Power source:
Overhead wire 1 500 V DC
Max velocity:
113 km/h
Safety systems in BVE:
ATS-S
Vintage:
1956-1958
Works with OpenBVE:
Yes
Known problems:
Vehicle description:
About NSWGR class 46 at
Wikipedia
Misc.:
Download from:
This train and the Heavy Coal route were posted to the Internet 17 years ago, and the website for the route has disappeared at least 10 years ago.
To download from this website:
Comes bundled with the
Heavy Coal
route.
Last update of this directory entry:
2018-Jun-17



Navigation bar
Level 1
Start
Install
Drive
Signals
Lines & Vehicles
(you are now at a subpage to this page)
Links
---
Level 2 under Lines & Vahicles inlevel; 1 plus selection Commonwealth of Australia Previous


Trains - Commonwealth of Australia

(you are at this page now)


Next


(End of navigation bar)




This is search 274497 in the vehicle directory






© Patrick Norqvist
e-mail
Last changed: 2023-Jun-24