4.3 Railroads
4.3.4 Fictitious places
Heavy Coal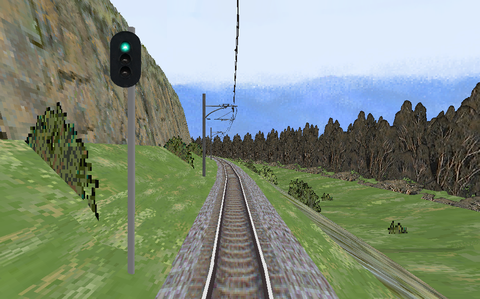 Description:
This is something rather unusual in OpenBVE: A freight route. The line is fictitious but the scene is an Australian line through mountainous terrain. The task is to drive 3 000 metric tons freight train with 30 coal-filled hopper cars from the COALEX terminal in Lithgow to its destination in Penrith. The route goes through the Blue Mountains, so there is the problem of pulling the freight uphill and then not to let the train overspeed downhill later on. This BVE simulation is from the year of 2001, but it is still a good freight route.
Alt.:
To Penrith
Stations:
11
Stops:
1
TTR:
75 min.
Distance:
51550 m
Works with OpenBVE:
Yes
Known problems:
Line description:
See the creator's file HeavyCoal.doc located in the route's directory. It contains a description of the scenario, and driving instructions as well.
Misc.:
Download from:
This route and train were posted to the Internet 17 years ago, and the website for the route has disappeared at least 10 years ago.
Last update of this directory entry:
2018-Jun-17






This is search 322158 in the line directory






© Patrick Norqvist
e-mail
Last changed: 2023-Jan-02