4.5 Streetcar lines
4.5.2 Italy
Biella Oropa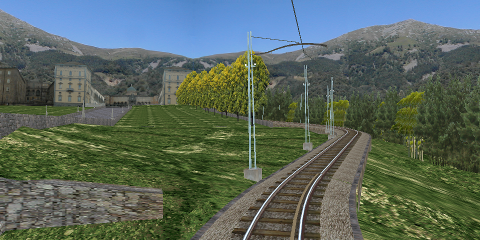 Description:
Part of the
Biella Oropa
line that was between this city
Biella
and the on a height located shrine
Santuario di Oropa
. The gauge was 950 mm. The tramline was opened for traffic in 1911 and closed in 1958. This simulation is of the last few kilometers closest to
Santuario di Oropa
, from the stop
Oropa Bagni
to
Santuario di Oropa
Alt.:
Oropa
Stations:
2
Stops:
1
TTR:
10 min.
Distance:
1797 m
Works with OpenBVE:
Yes
Known problems:
The route loads with one error in OpenBVE. The error is that the daytime timetable is not properly named.
This can be corrected by renaming the file Oropa-open.bmp to Oropa-x.bmp. It is in the folder of the route file.
Line description:
Misc.:
To download from this website:
N/A
Last update of this directory entry:
2020-Mar-07






This is search 362970 in the line directory






© Patrick Norqvist
e-mail
Last changed: 2023-Jun-24