4.4 Trains
4.4.2 Great Britain
37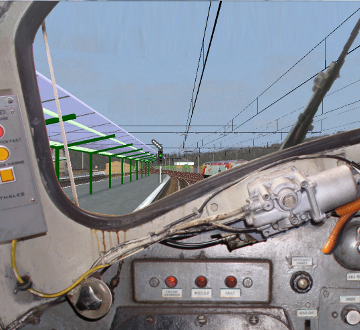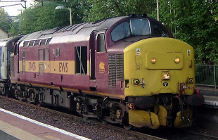 Description:
Train with class 37 diesel-electric engine. The simulated train used with the Birmingham Cross-City South line consists of 1 engine and 6 passenger cars (class Mk. 1). Photorealistic driver's stand and working indicators. The train comes in 2 versions: One with a passenger car consist and one with a freight consist.
# of veh.:
7
Total length:
Ca. 131 m
Total weight:
365 t
Traction pwr:
Max load:
Power source:
Diesel
Max velocity:
140 km/h
Safety systems in BVE:
ATS-S ATS-P ATC EB
Vintage:
1960--1965
Works with OpenBVE:
Yes
Known problems:
Misc.:
The following keys are assigned to control various functions on this engine:
2 Start motor
3 Stop motor
4 Switch tail lights on/off
5 Switch headlights on/off
6 Buzzer
Home Wipers on/increase wiper speed
End Wipers off/decrease wiper speed
Insert AWS reset
PageUp TPWS TS override
PageDown Isolate safety systems
The
Quick start guide
for this engine states the following procedure:
Move reverser from neutral to forward and then back to neutral
Cancel AWS horn
Start the engine
Move reverser to forward
Set train lights
Release brake
Open throttle
Download from:
The website where this train was distributed has disappeared from the Internet long ago.
Last update of this directory entry:
2018-Jun-21


 


This is search 274517 in the vehicle directory






© Patrick Norqvist
e-mail
Last changed: 2023-Jun-24