4.4 Trains
4.4.8 Italy
ALn663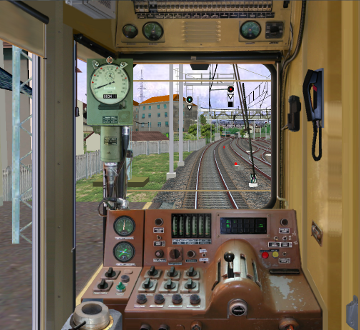 Description:
ALn663 DMU. Very nice simulation with photorealistic driver's stand with moving controls and working indicators. This train comes in 2 versions for OpenBVE. One version is with one single unit; the other with 2 coupled units. The data below describes a single unit.
# of veh.:
1
Total length:
16 m
Total weight:
35 t
Traction pwr:
340 kW
Max load:
63 pax.
Power source:
Diesel
Max velocity:
130 km/h
Safety systems in BVE:
ATS-S
Vintage:
1983--1993
Works with OpenBVE:
Yes
Known problems:
Vehicle description:
Misc.:
This train has a gearbox and other controls that use other keys than what is standard for OpenBVE. There is a
readme file
from the creators to explain this. Read it!
To download from this website:
N/A
Last update of this directory entry:
2018-May-29


 


This is search 274476 in the vehicle directory






© Patrick Norqvist
e-mail
Last changed: 2023-Jun-24