Somerset & Dorset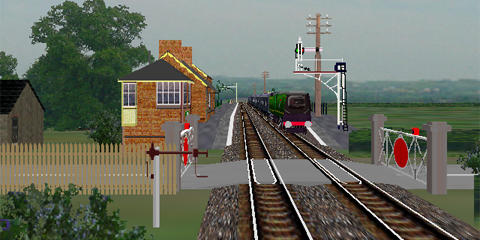 Description:
A part of the old Somerset & Dorset Joint Railway in southern England. This local train is hauled by a steam engine and goes from Shillingstone to Templecombe (south of Bristol). The correct engine for this train is a Bullied Pacific class West Country steam engine, but in lack of such an engine a class J36 steam engine is used. The railroad, stations and the beautiful landscape is well done. The simulation intends to replicate the route as it looked like in the 1960s. The traffic at this and some other lines ended March 7 1966 after have being trafficked since August 31 1863.
Alt.:
Local
Stations:
5
Stops:
4
TTR:
18 min.
Distance:
16875 m
Works with OpenBVE:
Yes
Known problems:
At the station Henstridge there is a goods wagon left at the main track. It blocks the way for the train driven in the simulation.
This can be corrected by deleting the following line in the route file Somerset & Dorset.csv:
14108,.freeobj 0;82;0;0;180,
Misc.:
It is not possible to adhere to the time table in this simulation:
The maximum speed of the route is, according to the timetable, 25 mph.
The time table is based on use of the Bullied Pacific class West Country steam engine. At the simulated route, passenger trains were hauled by that engine class in speeds up to 90 km/h.
To download from this website:
N/A
Last update of this directory entry:
2018-May-23