4.1 Subways
4.1.4 New York
NYCTA line S - Grand Street Shuttle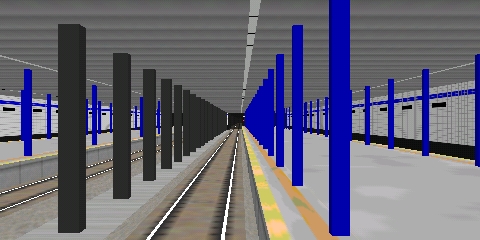 Description:
Line S - Grand Street Shuttle (line letter S is used by all shuttle lines) in New York's subway for the class R-46 subway train. This temporary shuttle line goes between Grand Street and West 4th Street/Washington Square on Manhattan.
Alt.:
Northbound
Stations:
3
Stops:
2
TTR:
4 min.
Distance:
1500 m
Works with OpenBVE:
Yes
Known problems:
Line description:
The real life S - Grand Street Shuttle at
Wikipedia
Misc.:
This temporary shuttle line was only operative from the summer of 2001 and until the beginning of 2004 during the Manhattan Bridge reparation works. During that time, the line had the
simulated route
from the end of 2001 and later.
Download from:
The creator's web site www.nyctba.com has disappeared from the Internet long, long ago.
Last update of this directory entry:
2018-Jun-12






This is search 362981 in the line directory






© Patrick Norqvist
e-mail
Last changed: 2023-Jun-24