4.1 Subways
4.1.4 New York
NYCTA line L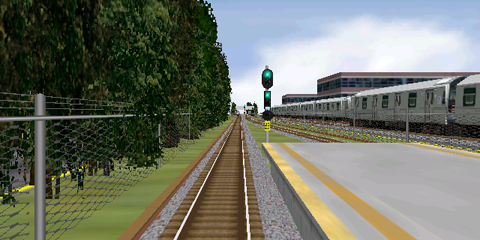 Description:
Line L in New York's subway (Canarsie line, former BMT), for the class R-143 subway train. The line goes from Rockaway Parkway in Brooklyn to 8th Avenue on Manhattan. Announcements of stations and connecting lines. Nice landscape details outdoors. The creators of the line have made an effort to get the signal aspects to look like they do in real life. Few trackside details and details at stations.
Alt.:
Towards Manhattan
Stations:
24
Stops:
23
TTR:
37 min.
Distance:
16500 m
Works with OpenBVE:
Yes
Known problems:
This line uses graphical objects from the
NYCTA E line
, which must be installed before this line can be used.
The graphic objects for class R-143 trains are not shown properly.
Misc.:
To download from this website:
N/A
Last update of this directory entry:
2018-Jun-15






This is search 362974 in the line directory






© Patrick Norqvist
e-mail
Last changed: 2023-Jun-24