4.3 Railroads
4.3.1 Japan
Minobu

line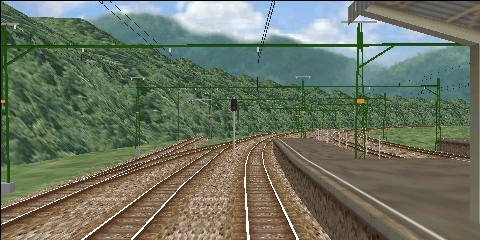 Description:
Part of the
Minobu
line (JR Central) for the class 115 train. The simulated alternative is a local train from
Higashi-Hanawa
to
Fujinomiya
. The line is electrified and goes through a beautiful landscape; the creator of this route has done a fantastic job creating the landscape!
Alt.:
Local
Stations:
25
Stops:
24
TTR:
96 min.
Distance:
65490 m
Works with OpenBVE:
Yes
Known problems:
None.
Line description:
About the
Minobu
line at
Wikipedia
.
Misc.:
Download from:
The website for this route has disappeared from the Internet more than 10 years ago.
To download from this website:
OpenBVE route package ver. 1.0.0.1
The code of this route has been adapted to load without errors and warnings in OpenBVE. The graphical experience is however not changed from Gaku's original work.
Last update of this directory entry:
2023-Jun-25






This is search 346197 in the line directory






© Patrick Norqvist
e-mail
Last changed: 2023-Jun-24