Navigation bar

Level 1
Start
Install
Drive
Signals
Lines & Vehicles
(you are now at a subpage to this page)
Links

---
Level 2 under Lines & Vehicles in level 1
Previous
103
(you are at this page now)
Next
(End of navigation bar)
4.4 Trains
4.4.1 Japan
103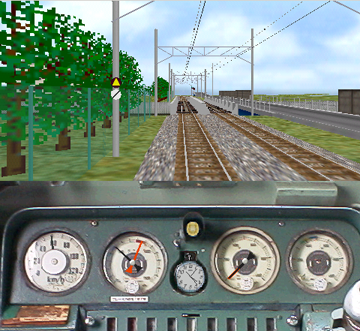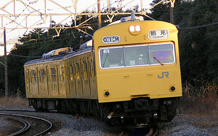 Description:
JR East class 103 EMU. There have been made >3 000 class 103 cars. This 103 unit for the
Tsurumi
-line consists of 3 permanently coupled cars: One motorized car class 103, one motorized car class 102 (center section) and a trailer car class 103. Photorealistic driver's stand with speedometer, 2 manometers (pressure gauges), clock and pilot lamp.
# of veh.:
3
Total length:
Ca. 62 m
Total weight:
Traction pwr:
880 kW
Max load:
Power source:
Overhead wire 1.5 kV DC
Max velocity:
100 km/h
Safety systems in BVE:
ATS-S ATS-P ATC
Vintage:
Ca. 1964
Works with OpenBVE:
Yes
Known problems:
This train is bundled with the
Tsurumi
line. There are however 3 missing sound files in the download from the creator's website. Also, the installers do not place the files in the right place. On this website there is an archive file with all files necessary for this train to work with OpenBVE.
Misc.:
To download from this website:
Train
to place in the directory
LegacyContent\Train
.
Last update of this directory entry:
2018-May-20



Navigation bar

Level 1
Start
Install
Drive
Signals
Lines & Vehicles
(you are now at a subpage to this page)
Links

---
Level 2 under Lines & Vehicles in level 1 Previous


103

(you are at this page now)


Next


(End of navigation bar)




This is search 34746 in the (English language) vehicle directory






© Patrick Norqvist
e-mail
Last changed: 2018-May-09